Welcome to day 20 :) Today, Astraea Press is making Cue Me In by Nell Dixon available for you :)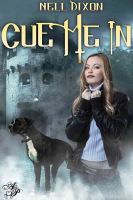 Fae Heath wants to be on TV, but not just any show. She wants to be on Ghost UK. She intends to win the contest to find the next presenter. Tall, slim and blonde and access to a haunted Welsh Castle on Halloween – how can she fail?
To get your free copy of Cue Me In go HERE and enter code YG95L during checkout :)
Want to know what reviewers are saying about this title?
Nell Dixon's novellas are usually contemporary romance or romantic suspense, so this somewhat paranormal Halloween romance is a bit of a change for her. At the same time, it's not your typical Halloween paranormal or paranormal romance, either. Although all of these elements--romance, paranormal, and suspense--are present in the story, the central element here is a moral decision the main character must make, and Dixon handles the suspense so cleverly, the reader is uncertain which way the character will jump until the moment the decision's made.
By now, I've noticed that Dixon's novellas, while not part of an actual series, tend to share characters as well as the location of New Bay, Cornwall. (Not certain if this is a real location or her own invention.)
Cue Me In
, however, takes place at a modern-day castle in Wales and it opens the possibility of a paranormal series. I for one would enjoy reading of Fae's and John's adventures once she lands the role of presenter on Ghost UK. Dare I hope?