Well, we have reached the end. The last day in the Astraea Press month long celebration and while we hit a couple of snags along the way, we had a smashing good time and hope that you did too :)
Since today is the last day we have something special for you :) A wonderful book that is currently in the running for the
iBuzz Next Book award
where public voting is now open.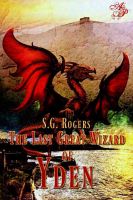 For his sixteenth birthday, all Jon wanted were the keys to the family car. Instead, he got a lousy magic ring…
Artistic prodigy Jon Hansen yearns to fit in, but when he stumbles onto a supernatural kidnapping, his life changes forever. Unfortunately, his search for answers uncovers a magical secret—one that makes Jon a danger to everyone around him.
The Wolf Clan wizard Efysian has been draining the magic from Yden. On a quest for eternal power, he's willing to kill to feed his addiction. To harness the ultimate source of energy, he travels to Earth. This time, however, he has a persistent witness to his crime.
Can Jon survive long enough to outwit the most evil wizard the magical world has ever known? Or will Efysian add the young wizard to his gruesome collection of trophies?
To get your free copy of The Last Great Wizard of Yden by S.G. Rogers please go
HERE
and enter code
ZL36H
during checkout.
Now you have to see what just a few reviewers are saying about this wonderful story!
The Last Great Wizard of Yden was the last bedtime story my 13 year old son let me read to him. There were so many components of Jon Hansen and Yden that made us look forward to bedtime. It was exciting, compelling, and believable. We were hooked from the first chapter. Fans of fantasy and adventure stories, we are anxiously awaiting the sequel! Perhaps he'll let me read it to him.
****
Anyone from tweens to adults will enjoy this "coming of age" adventure infused with magic, wizards, creatures and a hero who finds himself in a mysterious alternative reality. When Jon Hansen's father mysteriously disappears, he must figure out how and why -- with the help of an heirloom ring, cuff and some loyal friends. Ms. Rogers' imagination gives all the elements a freshness, especially in Jon's talent for drawing, and provides some great twists in the story. A definite *MUST* for any YA reader. Enjoy!
****
The Last Great Wizard of Yden is a really fun, really well constructed YA fantasy. I loved the characters in this story---Jon is a very believable hero and the rest of his unlikely crew of "Marines" are both hilarious and real. I am especially fond of Fred, the bully turned sidekick. Rogers has done a great job of creating a magical world that is believable and fresh.

If you are looking for an adventuresome read in the Harry Potter vein, stop here and read The Last Great Wizard of Yden. I am really looking forward to the sequel! Gotta see what little sister Sela might be up to!