Day 24 of this month long celebration bring you Shawnee's Creek by Stephy Smith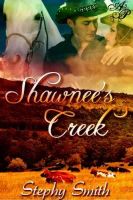 Shawnee Turner left her home, family and friends to start a new life on a Colorado ranch. When the ranch sold she was forced to return to her Texas hometown and the job she left behind.
Emory Creek owned the sale barn. Anxious for his one true love to return he had to come up with a plan to convince her he was the man for her.
For your free copy please go
HERE
and enter code
GU65P
during checkout.