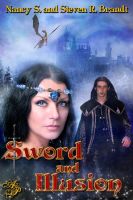 MOONRAZER was already a famous warrior when she drove the Navin from her homeworld, wrested the Sword of Justice from dragons, and became the first Exalted Warrior of the Sarl in seven generations. But now, as she is approaching her 40th birthday, she faces her most terrifying challenge of all--finding a mate and conceiving a child.
PRINCE VARIAN of Tellan needs an heir to his throne before the Festival of the Dragon Moon or the Dragons will kill him and his sisters. Twice, he has taken Dragonmarked wives to beget such an heir. His first wife, Violetta, ran away from him and after years of searching, he declared her dead and took another wife. Five months ago, his second wife and child were found dead. Now, Violetta has contacted him on her own deathbed to tell him he had a daughter sixteen years ago.
When he learns that his lost daughter may be living among the Sarl, and that the Exalted Warrior of the Sarl herself is looking for a mate, he discovers two chances to save his kingdom.
Together, Moonrazer and Varian must deal with intrigue, treachery, and even an assassin to help each other and save their kingdoms. However, even love may not be strong enough to save either world from destruction.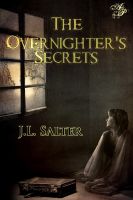 When Beth left suddenly, it broke two hearts, but she'd had no choice. Shane, a rugged, ex-Airborne biker, handled it badly, but so had she. Three years later and 2000 miles away, she desperately needs her ex-lover's protection from a violent menace with bad history who'll do anything to reclaim a mysterious suitcase Beth possesses.
Long before Shane acquired that overnighter, a silent movie actress kept secrets there ... and now several lives are in jeopardy. An ambitious female state senate candidate hires a ruthless investigator to eliminate potential campaign 'problems' like her dark family secret — a bizarre 1889 murder.
Is Beth's terrifying ordeal simply because she unwittingly possesses the overnighter's secrets? Or is it due to the meth-fueled dumpster-diver's unfinished business?
Shane will likely return to California after he resolves this Tennessee situation, so Beth struggles to resist her reawakened feelings. But before she can sort out their renewed relationship, she's kidnapped. To rescue her Shane enters an obvious trap in a dilapidated hotel. Only with Beth's help can both survive the violent struggle against her kidnappers.
For your free copies please follow the links below and enter the code at checkout :)